Subscribe to the Write Now podcast on iTunes!>>
Today I am proud to share with you a conversation I had with the wonderfully wise and delightful Honorée Corder.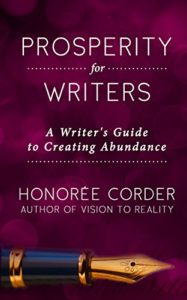 Honorée is a speaker, business coach, writing coach, and Writer with a capital W. She is also a smart, sassy, and successful entrepreneur who has published 20 books (including Prosperity for Writers) and knows what it takes to sell them.
"Nothing takes as short a period of time as you would like it to take… Everything's going to take longer, cost more money, and require more effort, and so what? Just keep doing it."
Honorée provides a refreshing voice for hopeful writers in a world that says all artists must be starving artists. Essentially, her goal is to help writers quit doing the things they don't love so that they can do the things they do love.
"I want people to do what they love and recognize that they can make an abundance of money from that."
Honorée and I had a great conversation about being a Writer with a capital W, self publishing, leveraged income, "BOLO-ing", the four hurdles to becoming a prosperous author, and tons more. This is a great episode and I hope you enjoy it!
"The harder and smarter I work, the luckier I get."
Mentioned in this episode:
#bolo!
Support the show!
You can help support the work I do here at the Write Now podcast and Coffee Break spinoff by pledging $1 or more per episode on Patreon!

Becoming a Patreon patron also gets you an invitation to be a beta tester for the Writers' Guild, a new online writers' group & forum that I'm creating. 🙂
I will send you emails.
Seriously! Sign up for my email newsletter here! I don't email incredibly often and I certainly don't spam, so really, you have nothing to lose.
Subscribe to Coffee Break (& Write Now).
You can listen to the full Coffee Break episode using the controls at the beginning of this post.
Or! You can listen and subscribe using your favorite app/website/podcatcher:
AND PROBABLY ALSO SOME OTHER ONES, TOO (e.g., I just submitted my show to iHeartRadio, so keep your eyes peeled!)
I'm on social media.
Connect with the Write Now and Coffee Break podcasts on your favorite social media platform(s):
Listen: