My friends: I really enjoyed this conversation with full-time YA author, collaborator, and entrepreneur Mya Kay. An eight-time published novelist who recently set a record for the number of books dropped in one day, Mya is smart, savvy, and full of great advice for writers of all ages and backgrounds who want to find success writing and selling books.
"I am changing the world with words."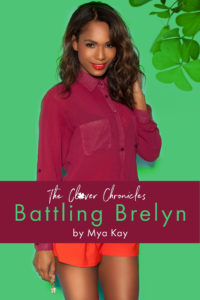 Mya writes YA fiction with a message of inspiration and faith, and touches on important issues that YA readers face, such as diversity, entrepreneurship, lupus, and the family issues that may arise in the life of a biracial teen girl.
"My biggest pet peeve is seeing writers who don't treat their writing like a business."
Mya treats her writing career like a business and encourages all writers to do the same. She also encourages writers to create every day (even if they can't write every day), and is passionate about sharing the message that while writing is a difficult process, it should never be scary.
"Writing a series is a dream come true for me."
Follow your dreams, and click the links below to follow Mya.
Mentioned in this episode:
#yalit
Support the show!
You can help support the work I do here at the Write Now podcast and Coffee Break spinoff by pledging $1 or more per episode on Patreon!

I will send you emails.
Seriously! Sign up for my email newsletter here! I don't email incredibly often and I certainly don't spam, so really, you have nothing to lose.
Subscribe to Coffee Break (& Write Now).
You can listen to the full Coffee Break episode using the controls at the beginning of this post.
Or! You can listen and subscribe using your favorite app/website/podcatcher:
I'm on social media.
Connect with the Write Now and Coffee Break podcasts on your favorite social media platform(s):
Listen: