I always thought the #1 most-asked question I would receive as a writing podcaster would be along the lines of, "How do I write strong characters?" or "How do I develop themes within my writing?"
But the question I'm actually asked the most is, "Do I need a degree in writing?" Turns out, it's an extremely complex question with an extremely complex answer. So hit "play" on episode 062 of the Write Now podcast, download the free PDF worksheet, and let's dive in!
Help support my podcast on Patreon! >>
The #1 Most-Asked Question
I received an email earlier this week from podcast listener Kiefer that inspired me to create this episode. Here's an excerpt:
"… My partner and I talked about this some the other day, with respect to a section in Big Magic by Elizabeth Gilbert where she talks about MFA programs as being unnecessary and often young writers go into them looking for a guarantee or a sense of validation. This talk has me doing some soul searching as the deadline [for the MFA program] is looming at August first."
Kiefer's question speaks to a number of fears and concerns that writers have:
That we can't be writers without some kind of official credential or institutionalized permission
That we're missing out on magical writing secrets by not getting a degree in writing
That an MFA or other writing program won't be worth the $50,000-$100,000 price tag
That an MFA or other writing degree won't guarantee a successful life as a writer
That we are looking for validation in the wrong place
That we are looking for validation at all
That we will cave to peer pressure/societal pressure and make the wrong decision
This is one of those questions where there's not one right answer and one wrong answer. There are a ton of factors involved in the decision of whether or not a writing degree is the right fit for you, including (in no particular order):
Time
Money
Lifestyle
Goals
Feelings
Value
It can all seem so overwhelming, right? It's OK. We're going to navigate it together.
How Do I Navigate This Decision?
Today's episode is here to guide you through these factors to help decide whether a writing degree is the right choice for you as a writer. To aid in that decision, I've created a free worksheet with eight questions for you!
You can download the PDF worksheet for FREE here: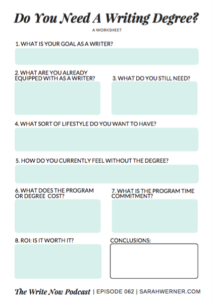 This is the first time I've created a companion download for a podcast episode, so let me know what you think. 🙂
Helpful Links:
What do you think?
Am I forgetting any important considerations? Do you have a degree in writing, and was it worth it for you? Tell me your thoughts on my contact page! You can also leave a comment below, or simply email me at hello [at] sarahwerner [dot] com. 🙂 As always, I'd love to hear from you.
Do you enjoy the Write Now podcast?
Consider sharing my message or supporting my work! There are tons of different ways to get involved:
Or if you prefer, throw some dolla dolla bills in my Tip Jar:

Thank you for helping me to help others. 🙂
Subscribe to the Write Now podcast! It's magical!
Listen to the full podcast episode for free (as always!) using the controls at the beginning of this post, or listen & subscribe for free (as always!) using your favorite app/website/podcatcher:
Help support this podcast on Patreon! >>
Connect with the Write Now podcast on social media:
Connect with the Write Now podcast on your favorite social media platform(s):
Leave me an iTunes review.
Like the Write Now podcast? Help me reach more listeners on iTunes when you write a five-star review. I might even read your review on the air! <3
Listen: